SAVE FLORIDA,
SAVE FLORIDA MAN.
ONE POSTER AT A TIME.
Rising sea levels will soon endanger Florida Man's Natural habitat, which means no more Florida and no more beloved Florida Man memes to share with friends. It's on us to save him, because he'll probably be in jail.
Download one of these free posters and bring it to the climate strike.

Just don't do anything Florida Man would do.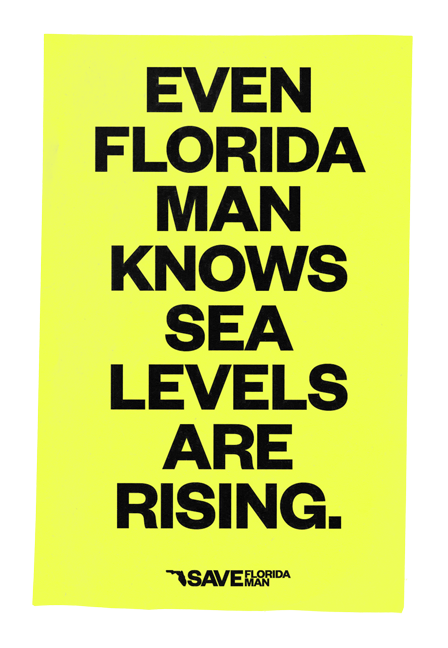 WHY SHOULD I SAVE FLORIDA MAN AND WHAT DOES THIS HAVE TO DO WITH CLIMATE CHANGE?
"Florida Man." Two words synonymous with the most batsh*t crazy news stories on the Internet.

He's made us laugh. He's surpassed the limits of common sense. He's enriched our social feeds and given us so much to share over the years. And now, as rising sea levels endanger his habitat, he needs our help.

Scientists forecast that within a decade, 1.3 million homes in Florida alone will be flooded due to rising sea levels, which puts a real damper on Florida Man stories.

But this is bigger than Florida Man. Rising sea levels will affect all citizens of Florida and coastal communities worldwide. So by saving Florida Man, we might just be saving everyone else at risk around the world.